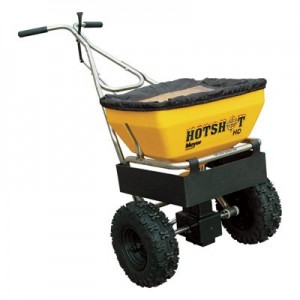 Meyer model number: 38180
The 2014 version of the Meyer Hot Shot walk behind spreader is a heavy-duty broadcast type spreader built for all-season use. The hopper is rated for 1.3 Cubic Feet of your choice of material – in addition to spreading sand, rock salt and ice melt, the Meyer Hot Shot can be used year round for fertilizer and lime treatments as well. With a shipping weight of 36 pounds and a gripping tire pattern, the Hotshot is a compact, easy to maneuver solution. The spread range is around 12-feet and a there is a removable deflector shield. This walk behind spreader allows the operator to cover a large area quickly.
The steel frame and Polypropylene hopper makes for a tough, long lasting spreader. Axle and wheel bearings/bushings are self-lubricating with excellent wear and load carrying performance.
An included see-through cover keeps the weather out and the media secure and dry while allowing the operator to keep watch on supply usage, and the easy to read dial makes for easy adjustment of flow rate.