All snow and ice management products in our catablog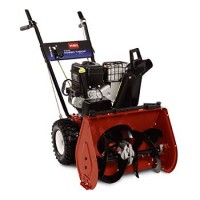 Toro 722 E Power Throw Snowthrower
The Toro 722 E is a two stage snow thrower with a 22 inch clearing width. It includes a 3 year manufacturer's warranty. Built with a 4 cycle Briggs and Stratton engine and consrtucted from heavy gauge steel and cast aluminum parts, but also designed to be easy to maneuver. You'll be blasting snow off of sidewalks with this beast. MSRP $999.95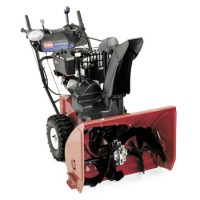 The Toro PowerMax 1128 OXE Snowblower

The Toro PowerMax 1128 OXE is a monster snowblower designed to chuck snow -with a 28 inch clearing width and a 45 foot throw distance, this will tear up anything snowy in its way. With loads of features including a headlight for night operation, an easy to operate chute control and a 342cc Briggs and Stratton engine, this it a top of the line product. Electric start is standard on this model! MSRP is 1999.95 USD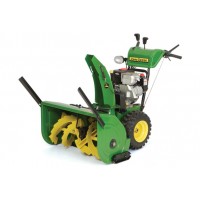 John Deere 1332 PE Professional Snowthrower
Coated in John Deere's iconic green and yellow, the 1332 PE snowthrower features a 32 inch clearing width and rolls on 16 inch tires. Premium features include electric chute rotation and standard electric start. It has drift cutters mounted on the fromt for chewing into high piles. This professional model carries 4 quarts of fuel for extended run times. John Deere backs the 1332PE with a 2 year consumer warranty and a 1 year commercial warranty, and it has a 2399.00 MSRP.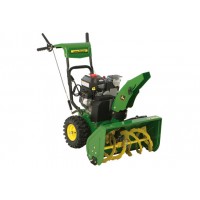 John Deere 726 Compact Snowthrower
Featuring a 26 inch clearing width, the John Deere 726E is designed to be a smaller unit that carries a large punch. Like many John Deere models, the 726 has electric start standard and a noise reducing muffler. The 726 features 6 forward and 2 reverse speeds, a 3 quart fuel tank and rolls on 13 inch tires. Dressed in the iconic John Deere green and yellow, this small but impressive snowblower has a 2 year consumer warranty (1 year for commercial) and has a low MSRP of 949.00.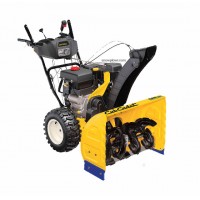 Club Cadet 528 SW Snowthrower
The Club Cadet 528 SW snowthrower has a 28 inch clearing width and has a stainless steel shave plate. This snowblower also features standard electric start, 6 forward and 2 reverse speeds, and rust resistant reverseable skid plates. The 528 SW is easily manuverable - it rolls on 16 inch tires. The chute is clog resistant and can rotate 200 degrees, along with a 200 degree pitch adjustment. A headlight and single hand operation are standard equipment, and it can optionally be fitted with heated hand grips. MSRP for this model is 1249.00 and it comes with a 3 year residential / 1 year commercial warranty.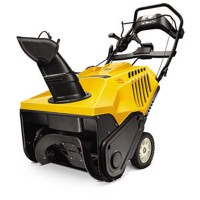 Club Cadet 221 LHP Snowthrower
The Club Cadet 221 LHP is designed for smaller jobs. With its 21 inch clearing width and 13 inch intake height, walkways and small driveways will be a breeze in light snowfall and icy conditions. It features a high impact, clog resistant chute with a 190 degree rotation and rolls on 8 inch tires. Electric start and a in-dash headlight are standard equipment. the 221 LHP is backed up with a 3 year residential / 1 year commercial warranty, and has a low MSRP of 649.00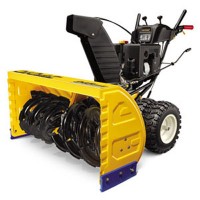 Club Cadet 945 SWE snowblower
The Club Cadet 945 SWE snowblower is a monster that features a whopping 45 inch clearing width. Matched with its enourmous width is its 22 inch intake height. If serious now removal is the job, this is the correct choice for clearing snow. The 945 SWE features the same standard equipment as its smaller brothers- a dash mounted headlight, 6 forward and 2 reverse speeds, and rust resistant reverseable skid plates, and backed by the 3-year residential / 1-year commercial warranty. It also has a heavy duty serrated steel auger for chewing through snow, a 5 quart fuel tank for extended run times and rolls on 16 inch tires. The 420cc Cub Cadet OHV 4-cycle engine provides plenty of power. MSRP on this beast of a snowthrower is 2649.00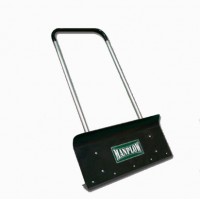 Manplow push style snow shovel
The Manplow push-shovel is a push type snow shovel- designed not to lift, but to push snowfall. With its EZ-Glide edge, the manplow is not held back by uneven surfaces. The Manplow is constructed with a long lasting aluminum blade and is available in Pro and Metro models with blade sizes ranging from 22 to 36 inches. In some situations, a good push shovel is easily the best tool for clearing ice, slush and snowfall. The Manplow can be puchased from www.manplow.com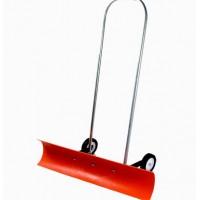 Dakota SnoBlade Plow Shovel
The Dakota SnoBlade is a push shovel that has been equipped with wheels that help push light snowfall off of driveways and walkways. Because the blade is canted to the side, the snow peels from one side to the other as the shovel is pushed forward. A simple flipping motion will reverse the angle of the blade. This product is not recommended for deeper snow removal, but when clearing a few inches of snow and ice, the lightweight Dakota SnoBlade's 36 inch width will make quick work of the job. The Dakota SnoBlade can be purchased from www.snoblade.net .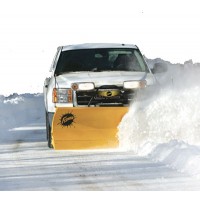 Fisher HT Series Snow Plow
The Fisher HT series snowplow is designed for half-ton pickups. Its distinctive yellow paint and Fisher badging are the hallmark of a quality plow. Available with a 7 foot 6 inch blade width, its 14 gauge steel construction weighs in at 414 pounds. The HT series plow is built with an aggresive 75 degree attack angle for effective plowing and back dragging. Featuring the MinuteMount2 system, this plow is easy to attach and remove.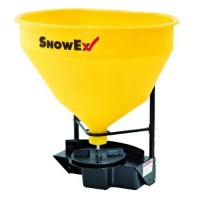 SnowEx SR210 Hitch Mount Broadcast Rock Salt Spreader
The SnowEx SR210 is a hitch mounted salt spreader designed to help control icy conditions. The SnowEx SR210 mounts on a conventional 2 inch hitch and can be attached to smaller utility vehicles such as all terrain vehicles, tractors or small pickups. Designed to be able to attack smaller spaces, this compact unit can be controlled with a wireless RF remote control. The 3 cubic foot capacity polyethelene hopper resists corrosion from the caustic rock salt.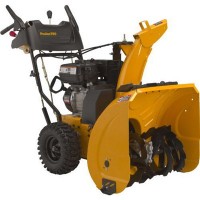 Poulan Pro PR624ES Snowthrower
The Poulan Pro PR624ES is a gas powered snowthrower with a 24 inch clearing width. It's high 23 inch intake height and 208cc engine can easily tackle high snow, and using the directional chute, throw the snow where you want it to go. It features an electric start to make those cold days a bit easier. The included headlight lights the way and offers visibility to others, allowing safer night time operation. Rolling on 13 inch tires, the Poulan Pro PR624ES offers sure footing on a variety of surfaces. Poulan offers a 2 year limited warranty on this product.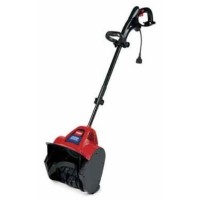 Toro 38361 Power Shovel Electric Snow Thrower
Looking for help clearing light snowfall from decks, walkways or small dirveways? The Toro Power Shovel can get the job done. Its electric motor and auger drive system can throw snow up to 20 feet. The Toro 38361 Power Shovel is lightweight and easy to manuver, making winter cleanup a breeze. Backed by a 2 year warranty, this small, low cost unit will save your back from shoveling strain.

Ames 1681500 Snozone Snow Shovel
Need a new snow shovel? The Ames True Temper 1681500 is built with the classic quality that has been in Ames products since The Ames Shovel Company began making shovels in 1774. This popular configuration is highly reccomended for moving heavy snow. The scoop is not too large to ease lifiting, and manufactured out of heavy duty ABS plastic. The handle is hardwood and comes with a D shape at the top for easy manuverability while waring gloves.The Snozone line from Ames is designed for those searching for a great value in a quality tool. Look in the back of a professional plow truck, you will see a shovel shaped like this!
Meyer Drive Pro Plow
The Meyer Drive Pro Plow is an easy-to-use snowplow ideal for tight residential areas or long driveways. Designed for half ton or light pick-up trucks and SUVs, The Drive Pro offers increased maneuverability and quality construction. Drive Pros are made with the same heavy-duty rams and hydraulic system as our full-sized plows and are assembled using Meyer's Reliable Over-time Construction process. With available rubber and polurethane cutting edges (sold separately), the Meyer Drive Pro plow is designed not to damage plowing surfaces. It is available in sizes ranging from 5 foot to 7 foot 6 inches and both steel any poly constructed moldboards.
WARN 78950 ProVantage ATV Plow System
The WARN 78950 is an ATV mounted plow, turning your recreational vehicle into an all terrain plowing utility. WARN's 78950 is a 50 inch wide blade that attaches with a mounting kit- once the mount is installed, the blade connects easily. The Warn ProVantage makes snow removal easy and fun, and is a cost effective purchase when compared to a snowblower or light truck snowplow.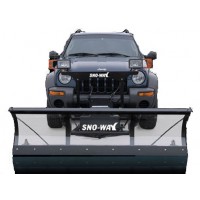 Sno-Way 22 Series snow plow
Made for small trucks and SUVs, the sno-way 22 series plow is intended for homeowners and non-commercial applications. Available in two sizes, the 6 foot 8 inch and the 7 foot 6 inch models run 22 inches in height. The 22 Series features a cool polycarbonate blade skin, shaving weight off of the plow unit. With its custom designed hydraulic system, the Sno-Way 22 Series snowplow offers easy operation and quick Drive-In mounting, and has other features found in commercial application plows. A great choice for Jeep ownerws who want to move small volumes of snow and ice!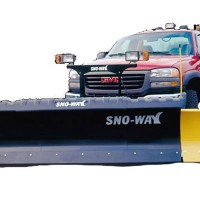 Sno-Way 29HD Series Commercial Snowplow System
Sno-Way's 29HD series plow system is designed for commercial applications. Geared towards 3/4 ton and 1 ton vehicles, the 29HD series featues a high-strength steel moldboard, heavy duty hydraulic systems and full load trip spings. This Sno-Way plow also integrates an optional EZ switch plow wing system, extending and shaping the plow blade for more efficient operation. A quick attach electrical system wires up the plow in seconds, and the 29HD series also is compatible with Sno-Way's Pro Control wireless control system.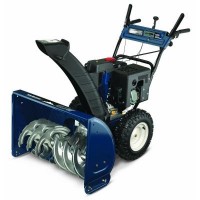 MTD - Yard Machines Summit Series 31AH65FH829 SnowThrower
The Yard Machines corporate parent MTD includes its Summit Series snowblowers. The 31AH65FH829 dual stage model has a 30 inch clearing width and a 21 inch intake height, 6 forward and 2 reverse speeds and packs a 357cc engine. Its chute rotates a full 200 degress for optimal snow positioning. This model features deluxe skid shoes to avoid damage to surfaces being cleared of snow, an in dash headlight and electric start to get the machine cranking easily in low tempatures. The 12 inch serrated auger and large engine will help throw snow and ice up to 40 feet.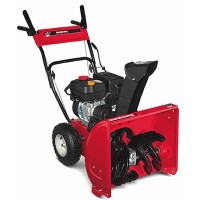 MTD - Yard Machines 31A62BD700 Snow Thrower
The MTD Yard Machines 31A62BD700 Snow Thrower has a 22 inch clearing width to make quick work of medium to small snow removal jobs. With a 4 cycle, 179 cc engine and its two stage action, this model is equipped to take care of winter problems. The included Snow Hog tires offer excellent traction. This model is designed to offer a good machine at a low price, escewing high end features ( such as headlights, handwarmers and electric start) in order to keep costs down. Backed by a two year warranty, this machine is good for the budget concious homeowner who wants the ability to throw snow but does not want to pay a premium price.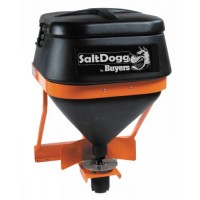 SaltDogg TGSUV1B Salt Spreader
The SaltDog TGSUV1B spreader is designed for attachment to a SUV's tailgate hitch. Manufactured for home owners and residential users, this model quickly attaches to a standard hitch and includes the needed mounting hadware. Control of this salt spreader is handles with an in cab remote module. With a 4.4 cubic foot capacity, the SaltDogg TGSUV1B spreader has enough capacity for small driveways and clearing areas. The black polymer shell is finished with stainless steel hopper throat and spinner, and is powered by a 12 volt sealed motor.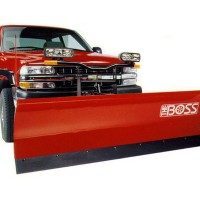 The BOSS Super Duty snowplow series
The BOSS does it again, with their excellent line of Super Duty straight edge plows. Dressed in the traditional eye catching red powder coat finish, the Super Duty is available in a variety of sizes ranging from 7 foot 6 inches to 9 foot with a steel moldboard and is also available in a 9 foot poly blade model. The Super Duty line of the BOSS snowplows features a reinforced frame for added strength, With high end features including and enclosed hydraulic system, a full moldboard trip design and blade shock absorbers, the BOSS super duty line is sure to power through snow removal tasks with ease.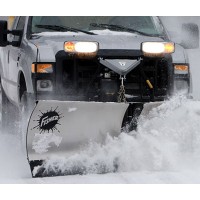 Fisher XtremeV Snow Plow Stainless Steel
Want a great performing plow with an awesome look? Fisher offers its XtremeV plow with a stainless steel moldbord as an option. These plows are real headturners! You get all the benefits of the Fisher XtremeV series as well -MinuteMount attachment, INTENSIFIRE lights, an anti-theft system, and the T-Frame design. The stainless steel moldboard promises long life and the redesigned fast hydraulic system allows for quick work. The Stainless model is available in widths of 7'6", 8'6" and 9'6". These high end XtremeV plows are not cheap, but a commercial plower may find that the efficiency and long life are well worth the investment.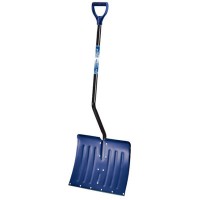 Ames Superlight Lift Rite Aluminum Snow Shovel
Ames makes great shovels for assorted purposes, and has been doing so for quite some time. This 18 inch model of snow shovel has a couple of nice features going for it - The handle, made of steel, has a bend in it to minimize the stress of lifting snow. The handle has a D grip on the top, for easy handling when wearing gloves and to provide leverage. The 18 inch blade on the Ames LiftRite is made of aluminum, for strength in lifting snow and to prevent wear when hacking away at ice. As a lift shovel, the Ames Superlight LiftRite excels- making it one of the best models available in this configuration. Available everywhere, look for model 1639400 or 1641200.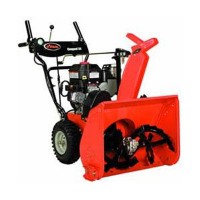 Ariens ST24LE Snowblower
The Ariens ST24LE has a 24 inch clearing width paired with a 205cc Briggs and Stratton engine. This model is designated as 'compact', and is when looking at a two foot wide snowblower. Good for smaller areas, but designed to handle a decent workload. Six speeds forward and two reverse, electric start and a headlight are standard features on the ST24LE. Built to stand the test of time with powder coated steel construction, The Ariens models have a 3 year consumer warranty behind them. The ST24LE's model number is 920014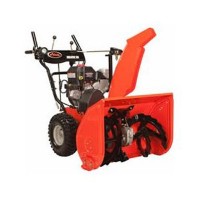 Ariens Deluxe ST28LE Snowblower
For just a bit more then the ST24LE, the ST28LE offers a wider clearing width (28 inches) and a larger engine (249cc). Ariens also includes an upgraded gear case to match with the larger engine, providing additional power - they claim this snowblower can throw snow up to 50 feet, using a chute that can turn a full 200 degrees. In this model, Ariens has included a single hand operated chute control mounted in the dash as well. The ST28LE has the same quality construction and warranty as its smaller brother - 3 years residential and 90 days commercial. Electric start and a directional headlight round out the package. The model number for the Ariens Deluxe ST28LE is 921022.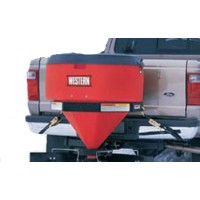 Western Tailgate Spreader Model 500
The Western Model 500 is a salt spreader designed to mount to a Class3 trailer hitch. With a 5 cubic foot capacity, this salt spreader is designed for smaller jobs. The polyurethane hopper and spinner will resist corrosion from caustic salt, and the unit can be installed or removed without tools for fast configuration. The 1/3 horsepower 12 volt motor is sealed to keep the elements out and promote long life. Western also offers a top screen to avoid chunks and an adjustable deflector for this model.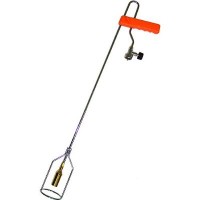 Bare Ground Propane Ice Torch
Want to melt ice and snow away? The Bare Ground BB100 snow and ice torch can help remove icy buildup quickly. This lightweight unit uses a standard propane canister for fuel and has a 31 inch reach for easy maneuverability. The adjustable flame control allows the operator to fine tune the ice melting action. The BB100 is great for meting ice off concrete steps - but make no mistake- this product is not designed for use on flammable surfaces. Having said that, using this product for its intended use is a quick way to remove stubborn icy buildup.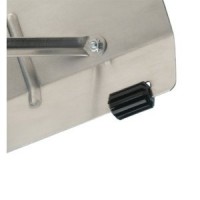 Garelick 16-Foot Aluminum Snow Roof Rake
Ice dams can destroy your gutters and fascia if you let them build up. With all the snow falling lately, a good roof rake can remove the lower snow from the house, avoiding buildup near the gutters and edges. The Garelick 16 foot roof rake is made of lightweight aluminum and has a 2 foot wide blade for fast snow and ice removal action. This is a really nice roof rake, with rollers on the working edge to avoid damaging shingles, something the cheaper products don't have. Great product, the Garelick will get the job done. Look for mfr part number 89416.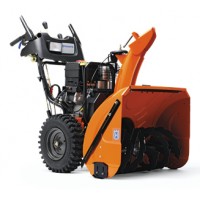 Husqvarna 924HV Snowblower
The Husqvarna 924HV is an enrty level model based around a 24 inch snow and ice clearing width. Even though this is the low end offering from Husqvarna, this two stage model has a lot of bells and whistles - Electric start, flood headlight, single conrol chute adjustment and 16 inch tires, for example. The 208cc engine is paired with a 12 inch diameter auger, providing good snow removal power. Look for part number Part Number 961 93 00-52.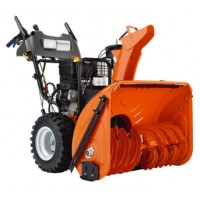 Husqvarna 1830SB Snowblower
At the high end of Husqvarna's residential line of snowblowers is the Husqvarna 1830SB. With a huge 30 inch clearing width and a 414 cc engine, the 1830SB will be blasting through snow and ice accumulation with no problems. This model has a halogen headlight, remote chute rotation, standard electric start, two stage impeller and auger team, heavy duty skids and offers one hand operation. The 12 inch diameter auger rotates on ball bearings for smooth operation. Husqvarna has also paired the large engine with a gear drive, an improvement over chain drives in lower end models. You are going to love using this high end snowblower! Look for model number 961 93 00-65 for the Husqvarna 1830SB.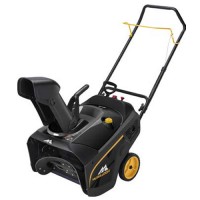 McCulloch MC621 Single-Stage Snowblower
The McCullogh MC621 is a single stage snowblower designed for clearing small areas of light snowfall. Equipped with a 208cc engine, the MC621 has more then enough horsepower for small jobs, such as walkways and small driveways.Its rubber auger will reduce damage to clearing surfaces, and the chute has a 180 degree positional rotation. The 2 year consumer warranty backs up this model. Because this is a cost-efficient choice, the McCullough MC621 does not have a lot of frills, but for light snowfall and ice clearing it's 21 inch clearing width may be all a homeowner needs to clear small snowfall amounts. Look for model 961820005.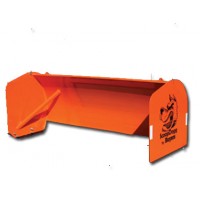 Buyers Scoop Dogg Snowplow
Turn your heavy equipment into a snow plow with the Buyers ScoopDogg snowplow. This add-on plow makes clearing parking lots a snap, using your tractor, front end loader, skidd steer or other heavy equipment. This line of snow pushers attaches to the equipment and makes it functional for winter service. The distinctive orange powder coated finish stands out for added safety. Buyers backs the ScoopDogg up with a 10 year workmanship warranty.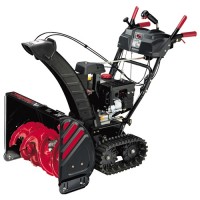 Troy Bilt Storm Tracker 2690 XP Snow Thrower
The Troy Bilt Storm Tracker 2690 XP is a two stage snowblower with a list of great features. The 2690XP has tank treads for superior traction when clearing spaces that are tough to maneuver in- such as inclines and icy areas. The 26 inch clearing width, paired with the 21 inch clearing height make short work of snow accumulation. The Storm Tracker 2690XP has touch and turn power steering, one hand operation, heated hand grips and an in-dash headlight, offering the operator comfort during use. A 208 cc engine is matched with a 12 inch auger and 12 inch impeller provides the snow blowing action, along with all wheel drive. The chute features a 4-way joystick control to allow fine tuning of snow placement. Look for model 31BM73Q3766.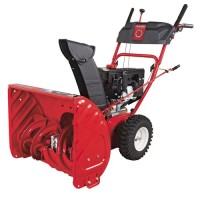 Troy Bilt Storm 2410 Snow Thrower
The Troy Bilt Storm 2410 Snow Thrower is a midrange two stage model with a 24 inch clearing width. Push button electric start kicks over the 179cc 4 cycle engine. The transmission offers 6 forward /2 reverse speeds and all wheel drive helps attack snow accumulation. The 12 inch serrated auger and 12 inch impeller push snow and ice through the 180 degree rotation chute- throwing snow exactly where you want it. The Storm 2410 rolls on 13 inch tires and the 2 quart fuel tank keeps it rolling throughout a good runtime. Look for model 31AS62N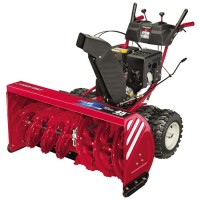 Troy Bilt Polar Blast 4510 Snow Thrower
Looking for the big gun? The Troy Bilt Polar Blast 4510 Snow Thrower has an enormous 45 inch clearing width. This gaping maw is filled with a 16 inch diameter auger, matched with a 16 inch impeller to take on massive mouthfuls of snow and ice. The Polar Blast lives up to its name with a 420 cc engine, blasting snow through its 190 degree rotation chute. The 5 quart fuel tank will keep this thirsty beast sated. Other premium features included are dual headlights, one hand operation, heated handle grips ,electric start and power steering. The heavy duty frame is made of 13 gauge steel, and the polar Blast rolls on huge 16 inch tires. Looking for a high end snowthrower? The Troy Bilt Polar Blast 4510 ( Mfr Model number 31AH97P7766) has all the features you need, matched with a super powerful engine for attacking heavy snowfall.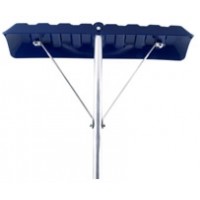 Garant GPRR24 Snow and Ice Roof Rake
With the recent storms, its now very important to remove the snow and ice from your roof, before it turns into a billion pounds of snow, slush and ice. The Garant GPRR24 Yukon is a roof rake designed to make the task easy. The 24 inch blade moves two feet of snow with a swipe, and the lightweight (4.2 lb) total weight will be a blessing to your shoulders. The 16 foot reach offered by this snow and ice roof rake will allow you to hit the edges of the roof ( the most important part, near the gutters!) and allow the sun and the heat escaping from your home to do the rest. The polyurethane blade is strong and formulated to last, while the aluminum handle offers weight savings while not sacrificing strength. The Garant GPRR24 Yukon breaks into sections for storage.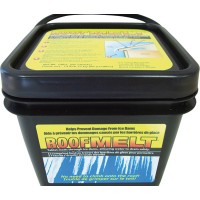 Kassouni RoofMelt Tablets
Roofmelt tablets are chunks of calcium chloride. Intended to get snow off roofs, this de-icing product helps snow melt faster. Simply toss the tablets onto the roof and let science do the work. Available in a 14lb bucket, the Kassouni RoofMet tablets get rid of that ice and snow you can't get to otherwise. Melts on your roof, and your hands! (*hand melting may occur, follow application instructions - safety first- this chemical needs to be handled properly)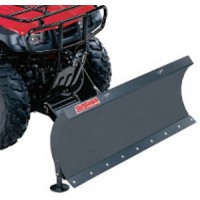 Swisher 2645R All Terrain Vehicle Snow Plow Blade
Swisher's 2645R is a 50 inch plow blade designed for mounting to all terrain vehicles. By attaching the 2645R to your ATV, you can extend the usefulness of your ATV and make plowing fun. This mini snowplow attaches using Swisher's QuickSwitch mounting system, which is also used for many of their other ATV accessories. The plow can be installed without tools, making outfitting your ATV for snow and ice duties a snap.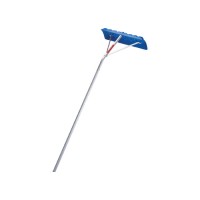 Ames True Temper Roof Rake
Looking for a snow rake? Clearing the snow off your roof is a good way to avoid ice dam buildup, and the structural and water damage that goes along with them. The Ames True Temper brand makes quality shovels, and this roof rake is a good example of thier products. The aluminum handle can reach up to 17 feet, but you can add an extender to go even further. The cushion grip makes it easy for the operator to hold on when pulling heavy snow, and the light weight assembly makes handling the roof rake easier on the shoulders. Avaialble at Lowes, Ace Hardware and other toolshops. Look for Item 83368/Model 1634500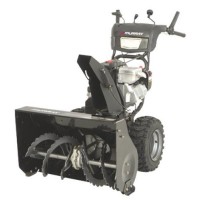 Murray 29 Inch Snow Blower
The Murray 29 inch snowblower is a two stage machine designed for the prosumer market. Its 29 inch clearing width and Briggs and Stratton Snow Series 305cc engine provide plenty of snow and ice clearing power, and its 190 degree of rotaion chute allows the operator to put snow exactly where you want it. Standard features include one hand operation, dash mounted chute control, and a headlight. With 6 forward and 2 reverse speeds, and rolling on 16 inch tires, the Murray 29 can get the job done. Look for model number 1695720.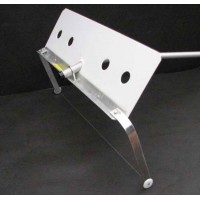 Phillips Snow Cutter
The Snow Cutter is a unique spin on the traditional roof rake. When used to remove snow and ice from a roof, the two sided Snow Cutter offers speed and performance benefits. The wire side acts like a giant cheese cutter, slicing the snow into manageable cuts. The blade side then pulls the snow off the roof. This clever product allows faster and cleaner snow removal than the standard roof rake. Standard setup allows for a 15 foot extension, but that length can be increased by adding extender poles. Great idea, great product. Get one from http://www.snowcutter.com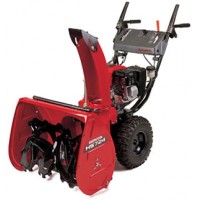 Honda HS724WA 2 Stage Snow Blower
The 24 inch clearing width of the Honda HS724WA is wide enough to move snow quickly and is driven by the 196cc OHV commercial grade Honda engine. This model does not offer a lot of high end features (notably missing electric start) but options such as a light kit, drift cutters and commercial grade skids are available as options. With a full 210 degree rotation chute and adjustable serrated auger, the Honda HS724WA is factory specified to throw snow up to 46 feet.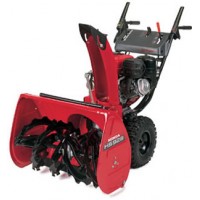 Honda HS928WAS 2 Stage Snow Blower
This model offers a larger 28 inch clearing width and a 20 inch clearing height. The 270cc Honda engine powers the serrated auger and the hydrostatic drive train, providing ample power for both, but still remaining fuel efficient - The HS928WAS is rated to run for 2.5 hours on a single tankful of fuel. Electric start is standard on this model, and drift breakers and a headlight are available as options. Backed up by the Honda standard 3 year commercial and residential warranty, and with the capacity to move 55.1 tons of snow and ice per hour, the Honda HS928WAS Snow Blower is a great choice for both homeowners or professionals.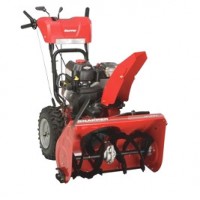 Snapper M924E Snowblower
The Snapper M924E represents Snapper's 2 stage entry level model. With a 24 inch clearing width and 12 inch notched auger, this snapper model can cut through snow and ice easily. Powered by a Briggs and Stratton snow series engine, this Snapper machine is suitable for residential use and s backed up by a 2 year manufacturer warranty. There is not a lot of bells and whistles on the M924E outside of electric start, but for someone looking for a low end 2 stage machine for snow removal from driveways and walkways, it fits the bill.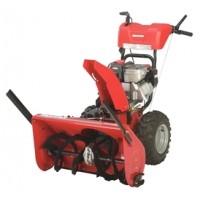 Snapper M1529E Snowblower
Slightly larger then the M924E, the Snapper M1529E offers a 29 inch clearing width and a bigger engine. The chute has a larger range of rotation at 200 degrees, and this model has larger tires as well. Other notable upgrades are standard drift cutters, electric chute adjustment and heated hand grips. The Snapper M1529E fits squarely into the high end category of residential snow blowers, and offers luxuries not found on other Snapper models in this series.
Snowbear Winter Wolf Pro Snowplow
Looking for a entry level commercial snowplow? The Snowbear Model# 8826APBYS Winter Wolf Pro is designed for light commercial snow plowing applications. Priced to appeal to new to the commercial market, the Winter Wolf pro offers an 88 inch clearing width with a simple design to minimize complexity. The reverseable polyurethane scraper edge and the powder coated finish add value to this light weight model.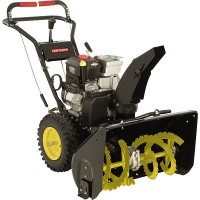 Craftsman Model 1695737 Snowblower
The Craftsman Model 1695737 features two stage snow throwing action and a 30 inch clearing width. The engine is a Briggs & Stratton 305cc 4 cycle, offering plenty of power to propel the machine and turn the auger/impeller pairing. Speaking of the auger, it has a 12 inch diamerter and is notched steel, to make sawing through packed snow a breeze. Electric start is included on this model. Backed by a two year warranty and available at Sears.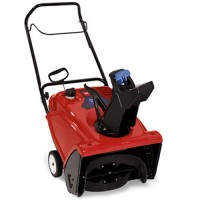 Toro 421R Snow Blower
The Toro Power Clear 421R is a single stage snowblower built for light snow removal in residential applications. Compact and light, this gas powered snowblower features a curved rotor and rubber paddles to remove snow and ice down to the bare ground. The paddles also allow for locomotion. The 163cc 4 cycle Toro engine is one of the best in its class. backed by a two year warranty, the Toro 421R may be the perfect snowblower for homeowners in light snowfall areas. Look for model 38453.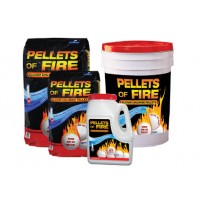 Pellets of Fire Snow and Ice Melter
Need to melt snow and ice quickly? Pellets of Fire to the rescue! Dart's calcium chloride pellets melts snow and ice in temperatures as low as 25 below zero. Throw them on your roof, or fill the wife's nylon stockings to make an ice dam breaker. You can scatter them on walkways to maintain safe access. These pellets get the job done, and with a name like Pellets of Fire, you cant go wrong. Available in small and large resalable containers,
along with bagged quantities.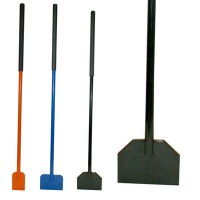 Dart Ice Choppers
Got some stubborn ice buildup that needs removal? Dart produces a line of ice choppers designed to cut through ice on walkways, driveways and other hard surfaces. These tools make the work of removing ice much easier then chopping with a shovel. Manufactured from steel, the natural weight and hardness provide the heft needed to chop through icy buildup. All models also feature a cushioned handle to reduce hand strain and provide grip during use. The IC57 has a 7x5 inch blade, the IC64 has a 4x6 inch blade and the IC68 has a 8x6 inch blade. All models are 60 inches in length.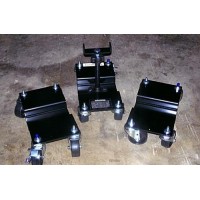 Snow Plow Dolly - DANT Enterprises
Need to move and store your snowplow? The snow plow dolly, from Dant Enterprises, is designed to do just that. The product consists of three steel brackets attached to heavy duty casters. By placing these under the plow when it is removed from the truck, it allows the user to move the plow's weight around on smooth to slightly rough surfaces. This way the plow can be moved around during the off season. When its time to remount the plow, it can be moved into an easily accessible position using the leveling feature to make the hook up easy. One added bonus is that it gets the plow up off the ground during storage. Available in standard and heavy duty models, you can get the Snow Plow Dolly from www.plowdolly.com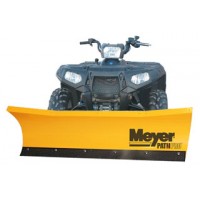 meyer path pro atv snowplow
Meyer's new Pathpro is an ATV mounted snowplow designed for clearing smaller areas. Available in 50, 60 or 72 inch widths, the Path Pro is designed to mount to just about any ATV, including Kawasaki, Yamaha, Honda, Suzuki and more using the Meyer Universal ATV mount. The blade angle can either use the auto-angling feature or be locked into one of the 5 position slots. The design features an aggressive attack angle and flared wings to manipulate the snow up and out of the way. 14-guage, high-tensile steel and a heavy duty frame should make this a long lasting ATV snowplow, and it can be registered online to take advantage of a five year warranty program.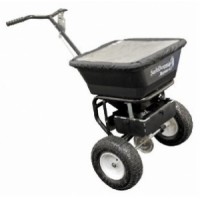 SaltDogg WB100B Salt Spreader
The SaltDogg WB100B is an entry level salt spreader designed for residential and small commercial applications of salt or calcium chloride to prevent icing. This is not a lawn spreader, it was designed for spreading salt. With its large 1.5 cubic foot polymer hopper, the SaltDogg WB100B can hold up to 100-pounds of bagged salt, salt mix or sand. The WB100B can also control where the salt is spread, with an adjustable broadcast radius via a 3 flap system and a fixed read deflector, along with a regulator designed for flow control. The gears are made of stainless steel and the frame itself is steel, not plastic. The Salt Dogg WB100B model rolls on 3 inch tires with a rugged tread for traction. Inside the bucket, a screen prevents clumping of the salt media. An included addition is a rain cover to keep the salt payload dry and prevent clumping. Homeowners looking to combat icy driveways and walkways should consider this salt broadcaster.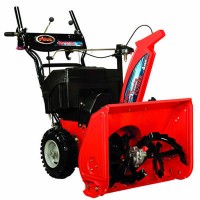 Ariens AMP 24 Electric Snow Thrower
Here's something different - a rechargeable electric snow thrower. The Ariens AMP 24 (model 916003) is a two stage machine with a 24 inch clearing width, and can run up to an hour ( depending on snow conditions.) No more running out of gas! The AMP 24 includes a 5-amp charger, but for quicker charging, a 48v 20-amp charger is available as well. The battery driven design results in a machine that runs up to 15 dbA quieter and has less painful vibrations. Simply unplug it from the charger, turn the switch and the AMP 24 is ready to start throwing snow.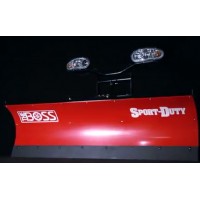 Boss Snowplows Sport Duty Plow
The Boss Sport Duty snowplow is a polyurethane blade plow available in either 7 foot or 7 foot 6 inch models. The Boss Sport Duty has a full moldboard trip to prevent damage from obstacles and the lightweight, slick poly blade offers savings in fuel consumption and wear and tear on the plow truck. This plow uses the Boss RT3 attachment system for easy mounting and removal and the hydraulic system is enclosed for long life. The poly blade is reinforced with a heavy duty frame and features a high performance cutting edge. Plow shoes are optional but available to assist with floating the blade over soft surfaces. Backed by Boss' two year warranty, this plow is a good choice for smaller trucks.
Oregon SnoStik
Can you count on one hand the times you lost a hand while removing snow and ice from the chute on your snowblower? Its incredibly stupid and dangerous to try and clear a jammed chute from your snow thrower, whether it is running or not. Many people use a broomstick, but this tool is made to do the job right. Oregon makes their SnoStick tool specifically for the purpose of clearing jams. Manufactured from high-impact polyprene, the 24 inch SnoStick features a ribbed handle and a hand guard for safety, and also incorporates a hanging hook so you can keep the SnoStik at the ready. A must have accessory for your snowblower or snowthrower. Model 73-039 from Oregon.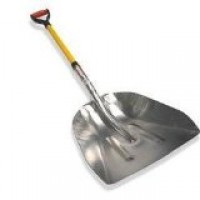 Neiko big scoop snow shovel
Looking for a good scoop style snow shovel? The Neiko Tools USA Big Scoop is an aluminum bladed shovel with an oversized scoop design. The blade is measures 15 x20 inches for moving big piles of snow and ice, and the scoop design keeps the winter slush on the shovel. The strong handle is made of fiberglass and has a D style soft hand grip at the end for comfort an maneuverability. The scoop style shovels are great for manually moving snow, but can also be used for construction and other tasks.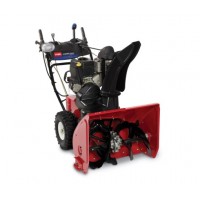 Toro Power Max 828 OXE
Toro's Power Max 828 OXE is a mid-range 2 stage snowthrower that packs plenty of power to get snow and ice from where it is to where you want it to be. This capable machine has a 28 inch clearing width and can throw snow potentially up to 45 feet. Made for big driveways and high snow accumulation, the Power Max 828 OXE is all about business- the business of kicking snow to the curb. There are plenty of features on the 828 OXE as well - The QuickStick chute and deflector control has a joystick like controller to angle the snow discharge on the fly, the included electric start gets the user working quickly and the headlight on the PowerMax 828 OXE is included as part of the package- not an aftermarket accessory.

The PowerMax 828 OXE includes a 14 inch serrated auger, a 12 inch impeller ,a 250cc Brigs and Stratton engine, and a commercial-grade auger gearcase. This snowblower is factory rated at a 2,000 lb per minute clip - enough to crush bigger snow removal jobs with ease. In addition, the 828OXE has Toro's Anti-clogging system to tear through high snow accumulation.

Toro's standard features also apply: reversible skid shoes, an adjustable scraping edge and 6 Forward, 2 Reverse speed transmission. 15 inch tires roll the 828OXE around in style. Toro backs the PowerMax 828 OXE with its 3 Year limited warranty and lifetime limited warranty on the chute, deflector, and ACS.

Toro's drive design really shines on this model. There is a controller for each wheel that can be used independently, for pinpoint turns - or you can use the interlock to keep one hand free to operate the chute, adjust the speed, or even wave to the neighbors who are still shoveling, and hoping you will stop by with your awesome Toro snowblower.

model number 38364 - Toro PowerMax 828 OXE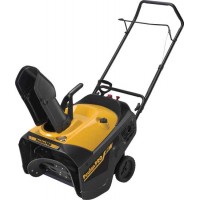 Poulan Pro PR621ES Snow Thrower
The Poulan Pro PR621 ES is a single stage snowthrower designed for the homeowner who has to deal with medium snowfall amounts on driveways, walkways and patios. Single stage snowblowers are good for this size job, and are usually in a price range that is affordable when compared to a larger 2 stage machine. This particular model has a 21 inch mouth and comes equipped with a 208cc engine, which is one of the larger power plants in this range of machines. Overall, the Poulan Pro PR621ES is lightweight ( around 70 pounds) and easily maneuverable. Electric start is included on this model, but a traditional pull handle should kick the engine over just fine as well. Run time on a tank of gas is just under two hours, enough to get most smaller jobs done with time to spare. The adjustable 13 inch chute helps direct the snow in the direction the operator wants it to go. Overall the Poulan Pro PR621ES snowthrower is a decent residential homeowner's choice for clearing light to moderate snow and ice accumulation on a budget. Makes for a great holiday gift!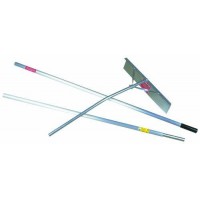 Midwest Rake 16 Foot Roof Rake Model 96022
Remember last winter when ice dams were a huge issue? The key to stopping the ice dam buildup is to get as much snow off the roof as possible. Of course by the time the ice dams were in full force, you couldn't buy an ice rake at any cost- sold out everywhere. This year, be prepared with a quality roof rake. This Midwest model has a quality 22 inch aluminum blade, which is both lightweight enough to maneuver and strong enough to pull plenty of snow. The Midwest 96022 aluminum roof rake has a 16 foot handle, which is expandable with the extension kit as well. Roof rakes are simple tools, that offer the benefit of not falling off a ladder trying to clear snow- trips to the ER are never fun.




The extension handle for this model is the Midwest Rake 96060 Roof Rake Extension Handle, and it adds an additional 5 feet to the roof rake tool.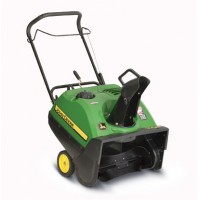 John Deere 522E single stage snow blower
The John Deere 522E is a small single stage snowthrower that packs a powerful punch. A small, lightweight machine that's designed for areas with smaller snow accumulation totals, the 522E still carries a 4 cycle Briggs And Stratton engine. The 22 inch clearing width provides a good bite radius to make short work of clearing driveways and sidewalks. John Deere has include both a recoil and electric starters on this model, and the chute can be rotated 190 degrees to aid in aiming the snow where the operator wants it to go. Looking sharp in the traditional green and yellow paint scheme, The John Deere 522E carries a two year warranty for consumers, making a reliable choice from a great brand.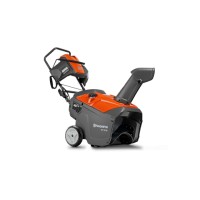 Husqvarna ST121E
Looking for a snowblower that's not enormous but is still able to handle a decent snowfall? The Husqvarna ST121E is a single stage machine with a 21 inch mouth, capable of clearing residential driveways and walkways but small enough not to take up the whole garage. This is not a toy, it has a 208cc 4 cycle engine for power, standard electric start and a headlight system for visibility while working. The Husqvarna ST121E's auger drive system propels the snow thrower on its 8 inch wheels. Single hand interlock allows the operator to drive one handed, while keeping the other free for the remote chute rotation system. The ST121E is Husqvarna part number 961830001.