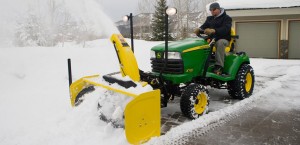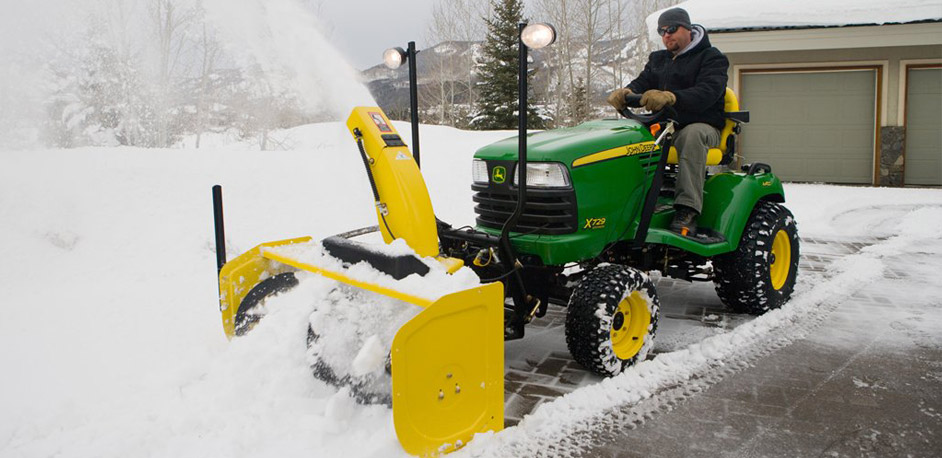 If you already own a good lawn tractor and are looking to get another season's use out of it, adding a snow blower attachment or snow plow attachment to your garden tractor can extend the use it sees, and also be a good way to have a large collection of equipment that stores away easily when not in use.
The snow plow attachment for a lawn tractor is the most common, with offerings for popular manufacturers such as John Deere, Cub Cadet, Toro and the Sears – Craftsman brands. You may also find universal lawn tractor snow plow kits that are designed to fit on lawn mowers from a variety of makes. The plow is typically good for those owners who have small areas to plow, and do not have large amounts of snow accumulation. Many aftermarket accessories can increase the performance of these snow removal solutions, but at the end of the day, a lawn tractor most likely does not have 4 wheel drive and an oversized engine. Another option for these heavy snowfall situations may be to look at ATV snow plows, as they have the superior performance specs that match up well with pushing snow.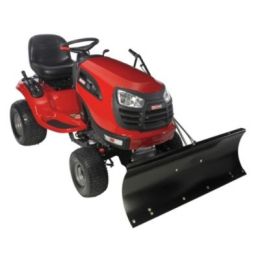 Snow blower attachments for lawn tractors are not as widely available. They do have the larger capacity for moving snow around, and the ones that are available generally tend to be very competent. The market offers variations such as belt driven and shaft driven augers and impellers, using the garden tractor for locomotion, steering and power. John Deere is one manufacturer that offers a great snow blower attachment, even for the tiny- sized mower option. One thing for sure, removing snow with a riding snow blower is easier then the one you walk behind.
Both the snow plow and snow blower attachments for lawn tractors are good choices, provided the equipment matches the task at hand – some snowfalls are so light that taking out the tractor seems like overkill. Other snow storms are so heavy that they overwhelm the tractor's ability to maintain traction. If you are looking to add a plow or snow thrower to your tractor, make sure it works with your model and is sized appropriately.
Related Posts: Snowbear ATV Plow Roundup, Craftsman Lawn And Garden Tractor Snow Plow Blade,  ATV Snow Plows – Great Snow Removal Equipment