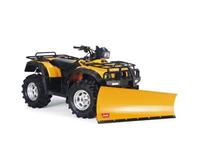 If you have ever driven an ATV, you know how fun it can be. Mounting a snow plow on an ATV makes a fun machine into a competent snow removal machine! An all terrain vehicle equipped with a plow is great for clearing snow and ice from pathways, walkways and small driveways, and can be even better then a truck plow in space restricted situation. The best snow plow for an ATV can vary, as many are designed for a specific manufacturer or model of plow, but typically the ATVs with more horsepower are the ones best suited to the job.
The snow plow techniques used with an ATV are not too far off what you would do with a truck- don't plow more then you can safely handle at once, and don't go too fast. Adding equipment to the ATV is highly recommended- strobe lights are important for visibility and tire chains may be needed to add traction in icy situations. Smaller ATVs benefit from adding weight as a counterbalance and traction assist. Other available options for your ATV snow plow include rear mounted salt spreaders, gravel shoes, blade markers, blade wings and additional headlights for night plowing.
Making sure the plow you choose is compatible with your ATV is important, as getting the wrong setup for your ATV is sure to be a frustrating experience. The mounting frame for attaching the plow itself bolts on the ATV frame, which then in turn connects to the snow plow. This frame must be compatible with your ATV. The weight of the plow can be an important consideration as well. Additionally, many ATV snow plow setups use a winch for raising and lowering the blade, so if this is a function that is required, make sure you have or are purchasing a winch with the plow system.
In addition to clearing your snow accumulation, a good ATV snow plow will make the process more fun and extend the usefulness of your investment to more then a toy.