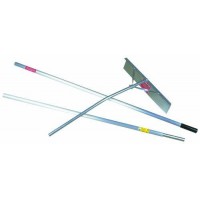 Midwest Rake 16 Foot Roof Rake Model 96022
Remember last winter when ice dams were a huge issue? The key to stopping the ice dam buildup is to get as much snow off the roof as possible. Of course by the time the ice dams were in full force, you couldn't buy an ice rake at any cost- sold out everywhere. This year, be prepared with a quality roof rake. This Midwest model has a quality 22 inch aluminum blade, which is both lightweight enough to maneuver and strong enough to pull plenty of snow. The Midwest 96022 aluminum roof rake has a 16 foot handle, which is expandable with the extension kit as well. Roof rakes are simple tools, that offer the benefit of not falling off a ladder trying to clear snow- trips to the ER are never fun.




The extension handle for this model is the Midwest Rake 96060 Roof Rake Extension Handle, and it adds an additional 5 feet to the roof rake tool.