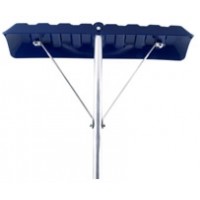 Garant GPRR24 Snow and Ice Roof Rake
With the recent storms, its now very important to remove the snow and ice from your roof, before it turns into a billion pounds of snow, slush and ice. The Garant GPRR24 Yukon is a roof rake designed to make the task easy. The 24 inch blade moves two feet of snow with a swipe, and the lightweight (4.2 lb) total weight will be a blessing to your shoulders. The 16 foot reach offered by this snow and ice roof rake will allow you to hit the edges of the roof ( the most important part, near the gutters!) and allow the sun and the heat escaping from your home to do the rest. The polyurethane blade is strong and formulated to last, while the aluminum handle offers weight savings while not sacrificing strength. The Garant GPRR24 Yukon breaks into sections for storage.
Get this roof rake delivered from Amazon!
Garant GPRR24 Yukon 24-Inch Poly Blade Aluminum Handle Snow Roof Rake With 16-Foot Reach