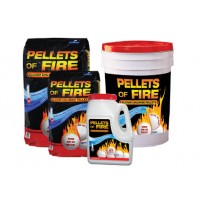 Pellets of Fire Snow and Ice Melter
Need to melt snow and ice quickly? Pellets of Fire to the rescue! Dart's calcium chloride pellets melts snow and ice in temperatures as low as 25 below zero. Throw them on your roof, or fill the wife's nylon stockings to make an ice dam breaker. You can scatter them on walkways to maintain safe access. These pellets get the job done, and with a name like Pellets of Fire, you cant go wrong. Available in small and large resalable containers,
along with bagged quantities.