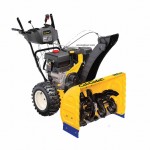 Your snowblower is an investment, and you should protect the money you have put in to it by performing end of season maintenance. By performing these tasks, you can extend the life of your snow removal equipment and help insure that next season's snow removal will go smoothly.
One of the easiest tasks to perform is a good washing of the snowblower. Removing salty buildup will help prevent corrosion. Pay attention to joints and seams. Using dish soap works, as does a soap meant for car washes.  Dry off any standing water. Also check your manual for lubrication points and follow these instructions, the soap has a way of washing out the grease.
Look for any scratches in the paint. Sand and repaint them to keep the elements out.
Check all bolts for appropriate tightness. Make sure all the shear pins are still intact, and if you do not have any shear pins in reserve, now is the time to order them. Making sure you have a backup spark plug is also a good thing keep in inventory.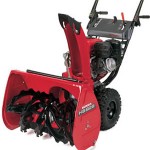 Changing the engine oil is a good move at this point. After a long season of use, this is one of those jobs that needs to be done but is easy to put off. You can bet that you won't feel like doing it during the first snowfall of next year. Cleaning or replacing the air and fuel filter may be needed as well, consult your owners manual. Adding seafoam to the gasoline and letting it run is optional. I prefer to do this right around the first snow of the winter.
Check the scraper bar that runs along the bottom of the intake edge for burs, cracks or bends. If yours is removable, take it off and hammer or file it smooth.  Also inspect the auger and impeller for damage, and repair as needed. If your unit uses a rubber auger, check for wear and replace if necessary.
A coating of PAM cooking spray or similar in the chute and intake surfaces will protect the snowthrower and keep it nice and slippery.
Once all the maintenance has been performed, store the machine for the winter. I like to wrap the electric starter cord around the console so it does not get misplaced. If all goes well, the next snowstorm you experience, you will have a snowblower that is ready for action!