Husqvarna's models of snowblowers cross from entry-level residential to high end commercial offerings. Two of these models provide bookends to the homeowner focused range of snow blowers- the 924HV and the 1830SB.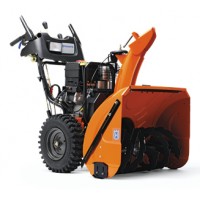 Husqvarna 924HV Snowblower
The Husqvarna 924HV is an enrty level model based around a 24 inch snow and ice clearing width. Even though this is the low end offering from Husqvarna, this two stage model has a lot of bells and whistles - Electric start, flood headlight, single conrol chute adjustment and 16 inch tires, for example. The 208cc engine is paired with a 12 inch diameter auger, providing good snow removal power. Look for part number Part Number 961 93 00-52.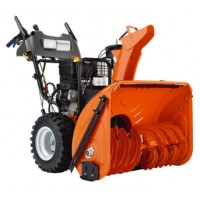 Husqvarna 1830SB Snowblower
At the high end of Husqvarna's residential line of snowblowers is the Husqvarna 1830SB. With a huge 30 inch clearing width and a 414 cc engine, the 1830SB will be blasting through snow and ice accumulation with no problems. This model has a halogen headlight, remote chute rotation, standard electric start, two stage impeller and auger team, heavy duty skids and offers one hand operation. The 12 inch diameter auger rotates on ball bearings for smooth operation. Husqvarna has also paired the large engine with a gear drive, an improvement over chain drives in lower end models. You are going to love using this high end snowblower! Look for model number 961 93 00-65 for the Husqvarna 1830SB.