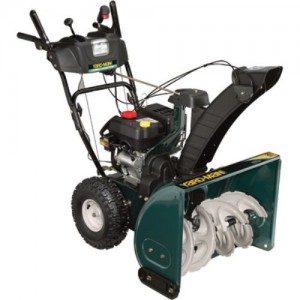 YardMan snowblowers are made by MTD, a large manufacturer who also makes brand names such as Remington, Yard Machines and Bolens, in addition to contract manufacturing for some models with brand names such as Craftsman and Club Cadet. MTD definitely has the ability to turn out good equipment under its own brand names.
This particular model is the Yard-Man 31AM63LF701, a two stage self-propelled snow blower with a 26 inch bite radius. Paired with a 208cc briggs and stratton engine (approximately 6 HP), the Yard Man is capable of attacking medium to heavy snow accumulations with ease. The 31AM63LF701 model has standard electric start, 15 inch wheels and a 6 speed transmission. Weighing in at 210 pounds, this is not a small machine.
This snowblower features skid shoes, a built in headlight, a manually operated 200 degree rotation chute and 2 year residential warranty. The non-brand name will shave a few dollars off of the price of big name models in similar configurations.