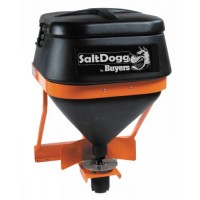 SaltDogg TGSUV1B Salt Spreader
The SaltDog TGSUV1B spreader is designed for attachment to a SUV's tailgate hitch. Manufactured for home owners and residential users, this model quickly attaches to a standard hitch and includes the needed mounting hadware. Control of this salt spreader is handles with an in cab remote module. With a 4.4 cubic foot capacity, the SaltDogg TGSUV1B spreader has enough capacity for small driveways and clearing areas. The black polymer shell is finished with stainless steel hopper throat and spinner, and is powered by a 12 volt sealed motor.
Salt spreaders such as this one handle icy conditions nicely, and thethe hitch mount makes fast work of the job of deicing.
Get the SaltDogg TGSUV1B direct from amazon.com