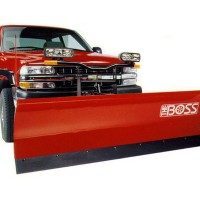 The BOSS Super Duty snowplow series
The BOSS does it again, with their excellent line of Super Duty straight edge plows. Dressed in the traditional eye catching red powder coat finish, the Super Duty is available in a variety of sizes ranging from 7 foot 6 inches to 9 foot with a steel moldboard and is also available in a 9 foot poly blade model. The Super Duty line of the BOSS snowplows features a reinforced frame for added strength, With high end features including and enclosed hydraulic system, a full moldboard trip design and blade shock absorbers, the BOSS super duty line is sure to power through snow removal tasks with ease.
The Boss makes excellent snow removal gear designed for both resdiential and commercial applications.
For more information about snowplows, visit the official site:
BOSS Snowplows – Snowplows, Salt Spreaders and other Snow Removal Equipment for the Professional and Homeowner