Ariens makes a full line of highly regarded snowblowers. Some of their models are intended for the 'prosumer' residential customer, and two models of these Ariens snow blowers are the ST24LE and the ST28LE.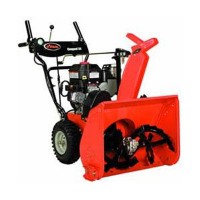 Ariens ST24LE Snowblower
The Ariens ST24LE has a 24 inch clearing width paired with a 205cc Briggs and Stratton engine. This model is designated as 'compact', and is when looking at a two foot wide snowblower. Good for smaller areas, but designed to handle a decent workload. Six speeds forward and two reverse, electric start and a headlight are standard features on the ST24LE. Built to stand the test of time with powder coated steel construction, The Ariens models have a 3 year consumer warranty behind them. The ST24LE's model number is 920014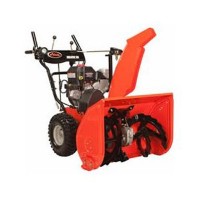 Ariens Deluxe ST28LE Snowblower
For just a bit more then the ST24LE, the ST28LE offers a wider clearing width (28 inches) and a larger engine (249cc). Ariens also includes an upgraded gear case to match with the larger engine, providing additional power - they claim this snowblower can throw snow up to 50 feet, using a chute that can turn a full 200 degrees. In this model, Ariens has included a single hand operated chute control mounted in the dash as well. The ST28LE has the same quality construction and warranty as its smaller brother - 3 years residential and 90 days commercial. Electric start and a directional headlight round out the package. The model number for the Ariens Deluxe ST28LE is 921022.
Ariens Compact ST24LE (24″) 205cc Two-Stage Snow Blower – 920014
Ariens Deluxe ST28LE (28″) 249cc Two-Stage Snow Blower – 921022