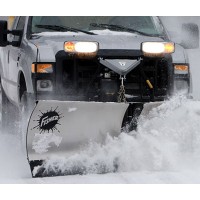 Fisher XtremeV Snow Plow Stainless Steel
Want a great performing plow with an awesome look? Fisher offers its XtremeV plow with a stainless steel moldbord as an option. These plows are real headturners! You get all the benefits of the Fisher XtremeV series as well -MinuteMount attachment, INTENSIFIRE lights, an anti-theft system, and the T-Frame design. The stainless steel moldboard promises long life and the redesigned fast hydraulic system allows for quick work. The Stainless model is available in widths of 7'6", 8'6" and 9'6". These high end XtremeV plows are not cheap, but a commercial plower may find that the efficiency and long life are well worth the investment.
Saw quite a few of these around town lately, and I really want one- the picture of this snowplow doesn't do it justice. Great product by Fisher!