Honda makes fantastic snowblowers in a range of sizes. Two of the models, featured here, represent two stage snow blowers that might be used for residential applications, but don't be fooled- these are useable for commercial snow removal as well. With one of the longest warranties in the industry, these honda engine equipped snow blowers run smooth, quiet and are fuel efficient.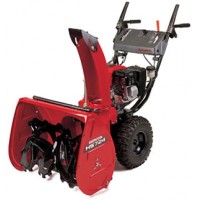 Honda HS724WA 2 Stage Snow Blower
The 24 inch clearing width of the Honda HS724WA is wide enough to move snow quickly and is driven by the 196cc OHV commercial grade Honda engine. This model does not offer a lot of high end features (notably missing electric start) but options such as a light kit, drift cutters and commercial grade skids are available as options. With a full 210 degree rotation chute and adjustable serrated auger, the Honda HS724WA is factory specified to throw snow up to 46 feet.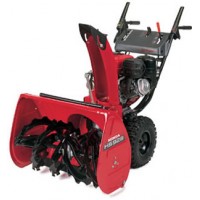 Honda HS928WAS 2 Stage Snow Blower
This model offers a larger 28 inch clearing width and a 20 inch clearing height. The 270cc Honda engine powers the serrated auger and the hydrostatic drive train, providing ample power for both, but still remaining fuel efficient - The HS928WAS is rated to run for 2.5 hours on a single tankful of fuel. Electric start is standard on this model, and drift breakers and a headlight are available as options. Backed up by the Honda standard 3 year commercial and residential warranty, and with the capacity to move 55.1 tons of snow and ice per hour, the Honda HS928WAS Snow Blower is a great choice for both homeowners or professionals.