Snapper's 2 stage residential snowblower offerings are decent machines that can remove snow and ice well. Snapper has been known to supply snow blowers to Sears under the Craftsman name in the past. Many of the features found on these models are geared to residential applications and price points – Enough snow blowing power and quality without breaking the bank.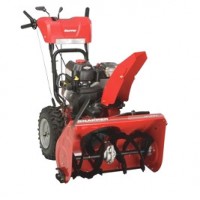 Snapper M924E Snowblower
The Snapper M924E represents Snapper's 2 stage entry level model. With a 24 inch clearing width and 12 inch notched auger, this snapper model can cut through snow and ice easily. Powered by a Briggs and Stratton snow series engine, this Snapper machine is suitable for residential use and s backed up by a 2 year manufacturer warranty. There is not a lot of bells and whistles on the M924E outside of electric start, but for someone looking for a low end 2 stage machine for snow removal from driveways and walkways, it fits the bill.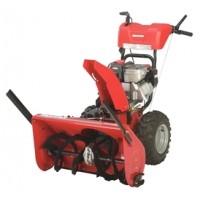 Snapper M1529E Snowblower
Slightly larger then the M924E, the Snapper M1529E offers a 29 inch clearing width and a bigger engine. The chute has a larger range of rotation at 200 degrees, and this model has larger tires as well. Other notable upgrades are standard drift cutters, electric chute adjustment and heated hand grips. The Snapper M1529E fits squarely into the high end category of residential snow blowers, and offers luxuries not found on other Snapper models in this series.