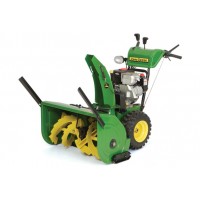 John Deere 1332 PE Professional Snowthrower
Coated in John Deere's iconic green and yellow, the 1332 PE snowthrower features a 32 inch clearing width and rolls on 16 inch tires. Premium features include electric chute rotation and standard electric start. It has drift cutters mounted on the fromt for chewing into high piles. This professional model carries 4 quarts of fuel for extended run times. John Deere backs the 1332PE with a 2 year consumer warranty and a 1 year commercial warranty, and it has a 2399.00 MSRP.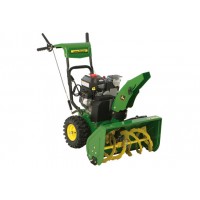 John Deere 726 Compact Snowthrower
Featuring a 26 inch clearing width, the John Deere 726E is designed to be a smaller unit that carries a large punch. Like many John Deere models, the 726 has electric start standard and a noise reducing muffler. The 726 features 6 forward and 2 reverse speeds, a 3 quart fuel tank and rolls on 13 inch tires. Dressed in the iconic John Deere green and yellow, this small but impressive snowblower has a 2 year consumer warranty (1 year for commercial) and has a low MSRP of 949.00.
John Deere makes a few models of snow and ice management equipment, suitable for consumers and professionals. These models are representative of the product lines- quality snowblowers at a slightly upscale price.